Hello friends!
I hope this holiday season finds you in good health and in a place that you find comfortable and secure. I am doing my best to cope with a rapidly changing world and express who I am through my music, an endeavor that has been going on for a long, long time but of which I never tire. It's in my blood going back at least 500 years that I can trace, back to my namesake, Robert Ballard, the lutenist and composer in King Louis XIV's royal court. A fascinating story really, but too much to get into here. You can find out more on my Patreon page. 
Here is a summary of what I have been up to lately.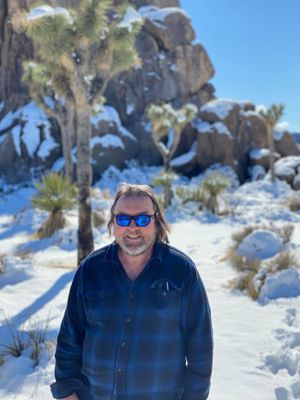 New Music 
I am pleased to announce that I have found some amazing collaborators and am working with them on a couple of new songs. In fact, Carol Lester and I just finished Swing Me, a light, playful song about children having fun in a park. This is a totally new area for me, but Carol is an expert in children's music; she develops and delivers music workshops for children in the New York metro area. Carol wrote the lyrics and melody and sang the vocals while I composed the music and produced the song. She has a great voice and melodic sense. We have high hopes for this one. 
Higher Ground is new rock song that some industry folk have likened to the Doors music. Pretty high praise, I loved the Doors back in the day. The song is about the impending climate crisis, a topic that seems to increasingly occupy my mind. Sometimes, it feels so overwhelming that I want to escape to somewhere safe where all people of good intent can live. Would you join me there? Released on all streaming platforms December 15, 2021. 
Hold On is about my mostly unsatisfied desire to be with my children and grandchildren. They live 3,000 miles away and I am rarely able to visit them. The pandemic has made such a trip virtually impossible for me, but I know it will pass someday soon. I sometimes feel very sad about not being a real part of their lives as they quickly grow up. Unfortunately, alienation from family has been a constant situation for most of my life. I hoped that the isolation would end when as time went by but I was wrong, at least so far. Will be released on all streaming platforms January 7, 2022. 
Other Projects 
I am exploring the possibility of re-arranging and modernizing some old R&B and rock songs. As someone who lived through that era and was inspired by that music, I have a special connection with those songs. These days, remakes are popular and there are opportunities to place new versions of old songs in film and TV. In fact, some think it easier to use a cover song than an original song in a production because people have some familiarity with it. However, the remake must have its own unique identity and therein lies the challenge. I am making good progress on recreating a couple of old Motown hits. 
I am working on a way to make more realistic recordings of my singer/songwriter material. By "realistic" I mean more like I perform them live. Studio recordings are higher quality than live recordings, but sometimes lose part of the energy that live performances carry. I am trying out different recording techniques that would allow me bring more of that live energy into the recording while maintaining studio quality. 
Sync Licensing 
I regularly participate in professional conferences to stay up to date on the music business and find ways to produce and license my music in TV, film and other productions. I have been participating in the Sync Café and Support program and will be starting a new sync licensing program in January. Through these programs, I am making some great contacts in the industry, including award-winning music supervisors, producers and agents. I am now an active member of the sync music community and love hanging with these great folks. 
Although I can't say anything about it yet, there is a strong possibility that my music will appear in a major TV series and in a sports advertisement. Nothing is certain in this business, but at least I know that some of the people responsible for making these decisions really like the music I gave them. Stay tuned! 
Right now my music is appearing in a recurring Reelz TV production, "Cult of Personality," the Charles Manson Episode. They used Surf's Up for the production because of Manson's connection with the Beach Boys back in the day. My favorite publisher, Music Partners, secured the placement of my music in this production. A short segment of this same tune appears in one episode of the old Kardashian TV show Kourtney & Khloe Take Miami. 
Well, that's about it for now. Seems like a lot but I love doing it. All of this is the fulfillment of a lifelong dream for me. Making a difference and making a living from making a difference is what I live for. 
If you feel so inclined, please consider being a Patron. It really helps to keep me going. Also, please share my music with others who might enjoy it. 
Thanks so much for your interest and support.
I wish you a Happy New Year, a year that brings us more peace, greater prosperity and love.