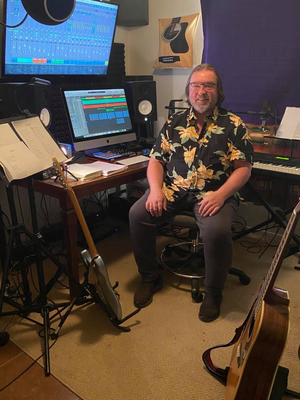 Hello all!

Lots going on right now. Several new songs and instrumentals in process and I am looking forward to wrapping them up over the next two weeks. One of my songs is a tongue and cheek interpretation of the pandemic experience. It is humorous but also very real. I can't wait to get it done. Going to add a great sax track to the song as soon as I find the right player to record it.

Night Came Down was pre-released on streaming to services this week and will be universally released on April 23. This song is about living through the 2017 Thomas Fire, the largest in California history at the time. After begging to get through the fire lines to save our pets, we arrived at our house with ash and flaming embers flying in our faces driven by 80 mph winds. Smoke filled our house and our lungs as we rushed through the rooms gathering a few essentials and our frightened pets. For the next several days, we ran from the fire. First to friends and then to a hotel 60 miles away. The fire seemed to chase us; within days, smoke was surrounding the hotel. We headed back south, passing again through the smoke as the fire lined the highway. Nothing was ever the same again, the fire changed everything. We were virtually homeless for weeks. Eventually we found refuge and a new home in the desert. Night Came Down is about all of that and more.

Local venues here in the S. California desert are beginning to show signs of life. Within the next few months, things might be "normal" enough for me to return to the Joshua Tree Saloon where I was a regular before the pandemic struck. I have been vaccinated, so at least I have done my part. Hope others do the same. Although FB Live performances work for some, I find it frustrating and not the level of quality I want to provide my fans. However, I did revive my Patreon membership so there is still hope. I have been working on expanding my social media presence on LinkedIn and Twitter as well as using music promotion and distribution platforms like DISCO, Distrokid, Bandcamp and YouTube. Hopefully, providing more points of interaction will help potential clients and fans find and enjoy my music more.

Thanks for your interest in me and my music. I appreciate it!