Hello friends! 
I hope this day finds you in good health and in a place that you find comfortable and secure. I am doing my best to cope with a rapidly changing world and express who I am through my music, an endeavor that has been going on for a long, long time but of which I never tire. It's in my blood and in my genes going back at least 500 years that I can trace, back to my namesake, Robert Ballard, the lutenist and composer in King Louis XIV's royal court. A fascinating story really, but too much to get into here. You can find out more on my Patreon page. 
How do you like my new hair? LOL!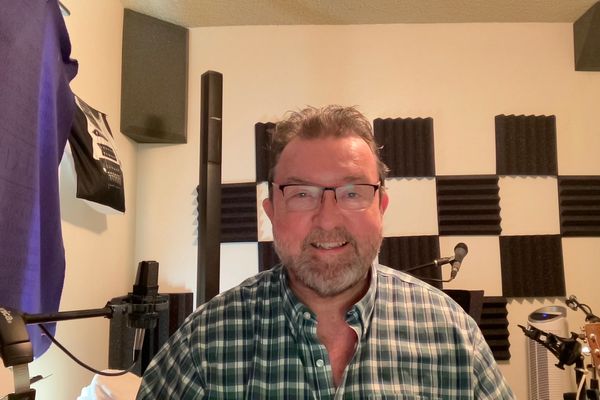 Here is a summary of what I have been up to lately. 
New Releases 
Locked Up is light-hearted, humorous look at living with the lock down. It is a personal story of isolation and near insanity that many can relate to, a situation that begs for a little levity. Here is a song that makes us smile, turning loneliness to laughter. Good medicine for us all. Also available via all major streaming platforms. 
Locked Up got a nice write-up on A/R Review and was added to the rotation on two popular internet radio stations, Eagle Nest Radio & Radio Free Exile. I am also working on a Locked Up video that I hope will be entertaining. I finished the storyboard and we started filming it yesterday. It is really a lot of fun! 
Reason To Live was just released last week. This song is about the spirit and the heart of so many of the people I met on the streets. Homeless, houseless people who were determined to find a reason to live despite their circumstances. I was inspired by them, so much so, I started a non-profit organization to empower them and show us who they truly are through artistic self-expression. It was called the Hearts of Fire Project and it consumed my life for a decade. You can listen to Reason To Live on my web site or on all of the major streaming platforms. 
Two more songs, Upside Down and Snow Moon, are now mastered and posted to my web site. I post all my music there first before distributing it to the digital music platforms. Both of these songs are different than my standard folk rock, singer/songwriter stuff. As I mentioned in my last post, I am challenging myself to expand my musical universe and incorporate some new techniques and structures. I hope you like them. 
I have four more pieces that will be done soon (I hope). Three are songs and one is an instrumental. All of them represent a continuation of my creative expansion and exploration. Two of these songs need lyrics which is always a challenge for me. I tend to write melodies first and then create words that match the melody and convey the emotional content that the music engenders for me. It can take awhile… 
Licensing 
I regularly participate in professional conferences to stay up to date on the music business and find ways to license my music in TV, film and other productions. I attended the Summer 2021 Sync Licensing Conference and the ASCAP Expo. Both were great opportunities to learn about what types of music are needed currently and who is licensing music right now. I made some great connections and have already submitted some music as a result. Although the music sync business operates on a "don't call us, we'll call you" basis, I feel like I am making progress. 
Right now my music is appearing in a recurring Reelz TV production, "Cult of Personality," the Charles Manson Episode. They used Surf's Up for the production because of Manson's connection with the Beach Boys back in the day. My favorite publisher, Music Partners, secured the placement of my music in this production. 
Senior Music Makers Group 
As a result of meeting people at the online conferences, I started a group to support senior music makers. We had our first Zoom call last week and I am hopeful that it will coalesce in the near future. 
Music In New Video – "Not Homeless Enough," from Hear Us 
I composed, produced and donated music for Not Homeless Enough, a new video from Hear Us, a non-profit organization that is bringing the reality of houseless people to our attention and connecting them with badly needed assistance. This short video explains how so many fall through the cracks. Homeless, but not homeless enough to get help.
---
Well, that's about it for now. Seems like a lot and it is but I love doing it. All of this is the fulfillment of a lifelong dream for me. Making a difference and making a living from making a difference is what I live for. 
If you feel so inclined, please consider being a Patron. It makes a difference. Also, please share my music with others who might enjoy it. 
Thanks so much for your interest and support.

Bob
Twitter: @BobBallard