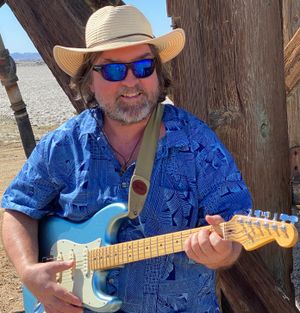 I couldn't let any more time pass without at least checking in here and saying hello. I have been focusing on recording my music in the studio and am producing music that meets my professional standards. I have also found a great mastering engineer that I am working with and I think you will hear the difference in quality that his mastering makes.

I promote my music on my Face Book page because I have a good sized, 400+ fan base there. I released "Night Came Down" a couple of weeks ago and will be releasing three more new songs over the next few weeks. I add all of my new music to this web site as soon as it is released. My songs are uploaded and distributed on all major streaming and download services like Spotify, iTunes, Apple Music, Amazon, etc.

In addition to my songs, I write a lot of instrumental music. Tonight, I uploaded an awesome and very unusual instrumental, "Midnight Ride," It is written in 7/4 time and took me awhile to figure that out. I didn't start off to create music in an odd time signature, but after I worked with it, I realized that is where it fit. And it works! I pitch this music to the film and TV industry folks in hopes of getting it licensed in a production. I'm still getting royalties from a couple of placements I made years ago, so I must be doing something right.

Since all live music venues have been closed for quite some time here in my area of S. California, I haven't had a chance to perform live. Nothing else is like performing for a live audience and I miss doing it greatly. However, I have been doing some Facebook Live broadcasts and plan to do more. These are broadcast from my Bob Ballard Music page on Facebook. If you are interested, there are several video performances posted there as well as some from my past gigs.

Like many, I have feeling blessed that this very hard year of 2020 is coming to an end. I have been hunkered down for months now and so far have avoided getting the virus. I hope that you all stay safe too. Let's hope and pray for a better year, a year filled with love and respect for each other.

Peace & Love to All.